Dániel Panka
assistant lecturer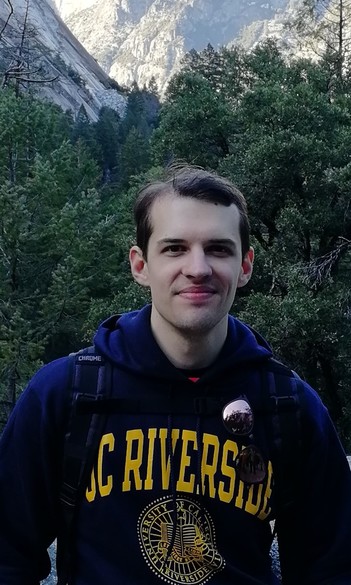 HU
Biography:
I obtained my Bachelor's and Master's degrees at the School of English and American Studies at ELTE under the supervision of Ákos Farkas. During my MA, an Erasmus grant gave me the opportunity to complete a semester abroad at the University of Heidelberg in 2015. In 2016, I began my doctoral research in the Modern English and American Literature and Culture Programme with the supervision of Zsolt Czigányik. Thanks to a Fulbright scholarship, I had to the chance to go to the University of California, Riverside as a Visiting Student Researcher in 2020 where I consulted with Sherryl Vint. During my doctoral studies I taught courses at the School of English and American Studies at ELTE as well as the Institute of English and American Studies at PPKE. I live in Budapest.
Research:
During my undergraduate studies I was mostly interested in the fictional manifestations of technophobia in the early 20th century. My interest then turned toward artificial people and 20th- and 21st-century science fiction. In my PhD research I also did extensive research within surveillance studies, genre theory, and humanism together with its "prefixed" versions (transhumanism and posthumanism). I am also interested in popular culture, critiques of capitalism, film studies, and conspiracy theories.
Selected publications:
Selected conferences
"Robotok és dehumanizáció: fogalmi kihívások." ["Robots and dehumanization: conceptual problems"] Dehumanizáció: Az elkövető alakja az irodalomban, a filmen, és a filozófiában, ELTE, Budapest, 2019. (in Hungarian)
"Frankensteinian motifs in Kornél Mundruczó's Tender Son: The Frankenstein Project (2010) and Benedek Fliegauf's Womb (2010)." 14th Biennial HUSSE Conference, Pannon University, Veszprém, Hungary, 2019.
"Transparency and Opacity: Artificial People in Robert J. Sawyer's Mindscan (2005)." Tracing Non-Human Agency in Literatures in English, Heinrich-Heine Universität, Düsseldorf, Germany, 2018.
"'The next city of Friends: J. B. Priestley's They Came to a City (1943)." 19th International Conference of the Utopian Studies Society, Europe, Universitat Rovira i Virgili, Tarragona, Spain, 2018.
"The Exhilaration of the Gaze in Dave Eggers's The Circle." Current Research in Speculative Fiction, University of Liverpool, Liverpool, UK, 2017.
---
Teaching
Introduction to literature
Modern English literature from 1890 to 1960
Robots and artificial people in science fiction
20th-century science fiction literature
Privacy and surveillance in fiction
---
Supervision
BA:
I accept the supervision of theses pertaining to 20th- and 21st-century works, specifically those connected to SF. I also accept theses related to surveillance studies and Mary Shelley's Frankenstein.
---
Further information
Academia.edu
MTMT
Google Scholar
ResearchGate
---