Dr. Eglantina Remport
senior lecturer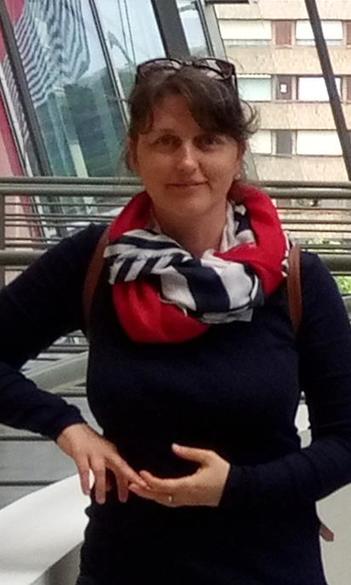 Biography:
I received an MA in English Literature with Irish Specialization at the School of English and American Studies (SEAS), Eötvös Loránd University (ELTE), Budapest. I was awarded a Ph.D. in English (Irish Literature) at the School of English, Queen's University Belfast, Northern Ireland. I am an award holder of the Hungarian Scholarship Committee at University College Dublin (2001), Ireland, and the recipient of a Government of Northern Ireland Ph.D. research scholarship at Queen's University Belfast (2004-2008). I have been teaching at SEAS ELTE since 2010, and served as Head of the Student Research Group (TDK) at DES between 2011 and 2017. I was on the Student Research Committee of the Faculty of Humanities, Eötvös Loránd University between 2012 and 2016. I have supervised many BA and MA thesis and I am currently supervising a doctoral thesis on contemporary Irish women's poetry. I am a founding member of the Budapest Centre for Irish Studies (BCIS); Board Member of the European Federation of Associations and Centres of Irish Studies (EFACIS) and founding member of the Diversity and Inclusion Committee of the Nineteenth-Century Studies Association (NCSA/US).
Research:
My main research interest is the period of the Irish Literary Revival (1880-1930), particularly Lady Gregory and the drama of the Abbey Theatre. I am interested in the intersections between the visual arts, literature and politics. I have published a book and numerous articles on this chapter of Ireland's cultural history. I also teach and research film adaptations of Irish literary works and historical events, using postcolonial, adaptation and gender theories. Over the years, I have organised many conferences and workshops, including the Yeats 150 Conference (2015) and the events of the Researchers' Night (2013 and 2015). I am currently working on a new book-length study on the Irish Revival.
Selected publications:
Lady Gregory and Irish National Theatre: Art, Drama, Politics. Basingstoke: Palgrave Macmillan, 2018.
"Theatre and the Visual Arts: Lady Gregory and Flann O'Brien." Acting Out: Flann O'Brien and the Theatre. Ed. Paul Fagan and Dieter Fuchs. Cork: Cork University Press, 2021. (forthcoming)
"The Stones of Venice: Lady Augusta Gregory and John Ruskin." John Ruskin's Europe: A Collection of Cross-Cultural Essays. Ed. Emma Sdegno, Martina Frank, Myriam Pilutti Namer, and Pierre-Henry Frangne. Venice: Edizioni Ca' Foscari, 2020. 283-296.
"Edward Gordon Craig and W. B. Yeats, 1901–1911: Engaging Turner, Ruskin, Wagner and Appia." Irish Studies Review 28.1 (2020): 94-114.
"Marxist Utopianism and Modern Irish Drama, 1884-1904: William Morris, W. B. Yeats and G. B. Shaw", Utopian Horizons: Ideology, Politics, Literature. Ed. Zsolt Czigányik. Budapest: CEU Press, 2017. 119-142.
Selected conferences
"Sir William Gregory and the Buddhist Manuscripts of Ceylon (Sri Lanka)." "Rediscovery": Nineteenth-Century Studies Association (NCSA), online conference, 2021.
"'Making a play': Lady Gregory, Playwriting & the Camera Obscura." Stage Irish: 12th EFACIS Conference, University of Ljubljana, Ljubljana, Slovenia, 2019.
"Lady Gregory's Sicilian Summer & the Cultural Politics of the Abbey Theatre." Plenary lecture and book launch, VCIS Irish Studies Summer School, University of Vienna, 2018.
"Patrick Pearse and the Hungarian Language Movement." Invited speaker, Easter 1916 Commemorative Symposium, University of Notre Dame and Pázmány Péter Catholic University, Budapest, Hungary, 2016.
"History in the Making: Neil Jordan's Michael Collins (1996)." Invited speaker, The Reel Eye: Film Festival and Workshop, Eötvös Loránd University, Budapest, Hungary, 2019.
---
Teaching
English Literature, 1890-1960
E.M. Forster and the Modern Novel
Irish Literature, 1800-2020
Oscar Wilde and G.B.Shaw
Irish Film and Literature
---
Supervision
BA:
Irish Literature
Ireland on Film
English Literature, 1890-1960s
MA:
PhD:
Twentieth and Twenty-First-Century Irish Literature
---
Further information